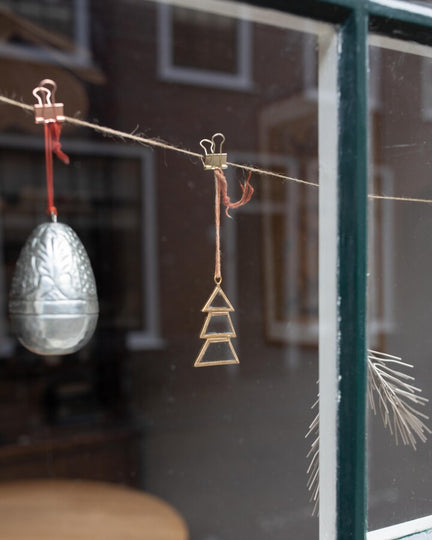 Van Verre
Brass & Glass Hangers
made in India
by metal artists in traditional small workshop
made of brass and glass with cotton thread
dimensions 8,5cm x 8,5cm (star) / 7,5cm x 4,5cm (tree)

Sparkling lights reflect on the glass of these little stars and pine trees. They will bring that extra touch of magic to your festive tree or they make a charming addition to our Treasure hanger. These ornaments are crafted in traditional metal workshops that have existed since the early days of Indian civilisation. Where skillful hands turn metal into pieces of art. This age-old craftsmanship is transmitted from father to son, their hands never hesitate while shaping delicate details of every single item.
The cotton Mauli thread that is attached to the hanger, symbolises protection from the Hindu gods and is traditionally worn around the wrist. The ratio of the yellow and red colour in the Mauli threads vary.


Van Verre works all over the world and works directly with the artisans. These authentic products are made with pure craftsmanship and resonate the rhythm of the Silk Route, therefore they will add a touch of magic and authenticity to your home.