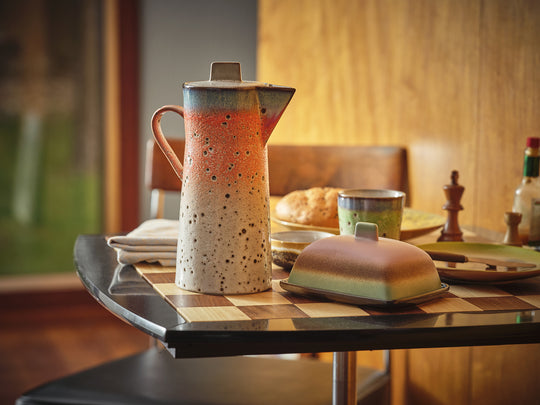 HK Living
Ceramic 70s Coffee Pot: ASTEROIDS
Ceramic coffee pot in seventies style.
A 70's ceramics coffee pot added to our popular 70's ceramics series! The coffee pot with matching lid is unique due to the handmade finish and packed in a black iconic 70's ceramics gift box.

Whether you are a first time lover of our 70's ceramics, or a long term collector, there is always room for more. Again, more funky colours, new finishes and rusty designs found their way into our collection of mugs, bowls and plates.


colour: Asteroids
dimensions: 10x13x23cm
product length/depth (cm): 10
product width (cm): 13
product height (cm): 23
product diameter (cm): 10
product weight (gr): 720
material: Stoneware
characteristic: Reactive glaze
food safe: Yes
dishwasher proof: Yes
product capacity (ML): 1150
microwave proof: Yes
Differences may appear: Yes