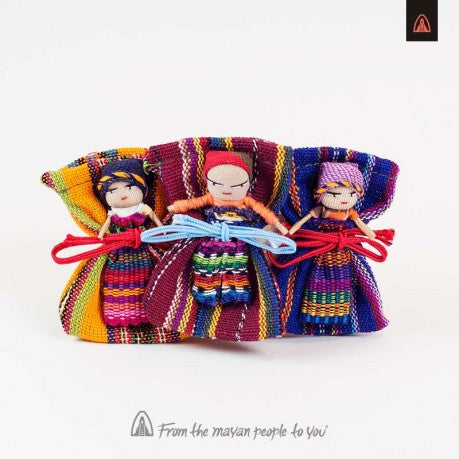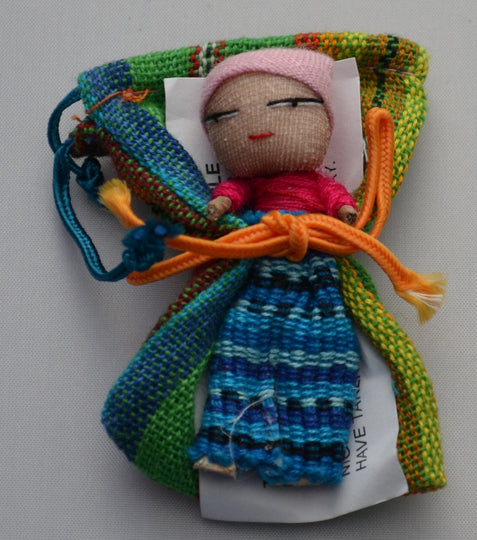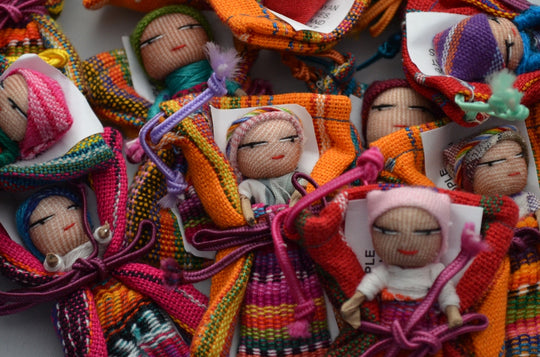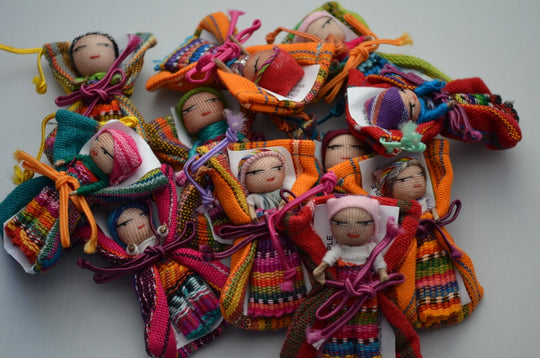 From The Mayan
Guatemalan Big Worry Doll
There comes a time in all of our lives when support and a helping hand is needed. Driving tests, exams, new ventures, first day at school, university, work … health or love troubles ... the list is endless and varied.
A handmade mascot could be just the thing. Small enough to fit in a purse or pocket, this thoughtful gift could make a lot of difference. The power of suggestion, the wonder of the mind or just plain and simple belief in something can have an amazing effect. There's definitely nothing to lose.
On the bag is 1 worry doll from Guatemala. The pouch is made of cotton and is traditionally woven. The worry dolls and bags are all unique!
The story is that when the Maya have worries, they tell them to their worry dolls and then put them under their pillows at night. In the morning the worry dolls have taken their worries away!

Each doll is unique! If you order this product, you will receive 1 bag of approximately 4 x 7cm with 1 worry doll and 1 story with explanation in English!

Supplier Info: The supplier owns a small factory and employs just over thirty local people from the nearby village. They pack the products while the Mayan artisans work in their own homes in small villages throughout Guatemala, but usually in the highlands. Employees receive a monthly salary, but in addition they have emergency medical insurance. Thousands of Guatemalans have supplemented their mainly agricultural income by producing these products and this added income allows families to send their children to school for a precious few more years. The materials used in making this and other products are widely available in Guatemala and are renewable. Cotton, ceramic, or cibaque (a plant found on the riverbank), recycled paper and wood are amongst them. The company also donates funds to cover the majority of costs for annual community projects, such as building schools. They are proud to represent the spirit of Guatemala in a way that improves thousands of lives.


Why we love this product!
Hand-crafted
Fair Trade, helping many families to achieve a better standard of living and schooling
A lovely message and gift
A little help for life's big adventure
Why wouldn't you?
Dimensions: Approx 5cm