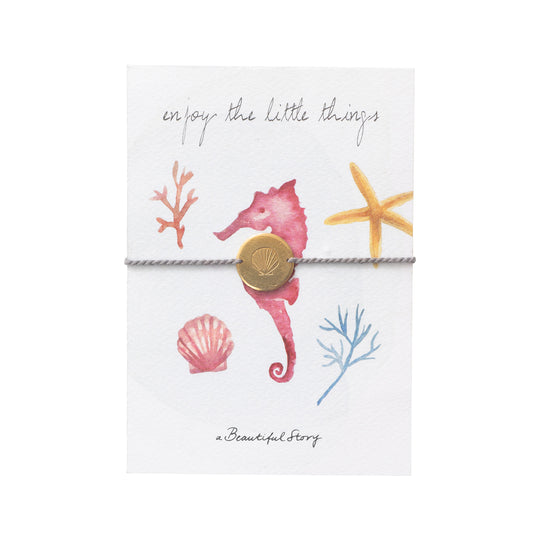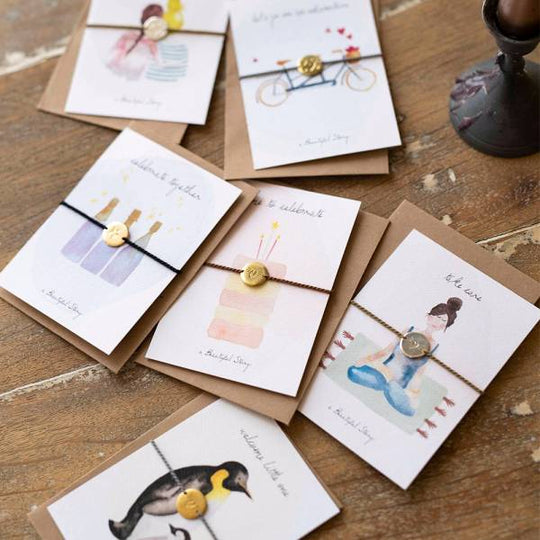 A Beautiful Story
Seahorse Jewelry Postcard
This product consists of a postcard, bracelet and envelope. The material of the card is 300 grams of off-white matt paper. The measurements of the card are 74 x 105 cm (A7).The bracelet is made of cotton wax thread and a handmade coin with hearts. The card has a unique illustration of a seahorse with the quote "enjoy the little things".
Producer Beads for life
Type Jewelry Postcard
Color Grey & Gold
A Beautiful Story wants to help make this world a little better. 
Their love for Nepal and its people has drawn them to the highlands of this vulnerable country in the Far East. Through their stunning collections they create fair jobs for local communities and provide a better life for many Nepalese families. Since they are involved in the whole production process form start to finish, they are able to create fair and ethically made jewelry. All pieces are handmade with love. Where East meets West with the designs form Amsterdam combined with the traditional crafts form Nepal.