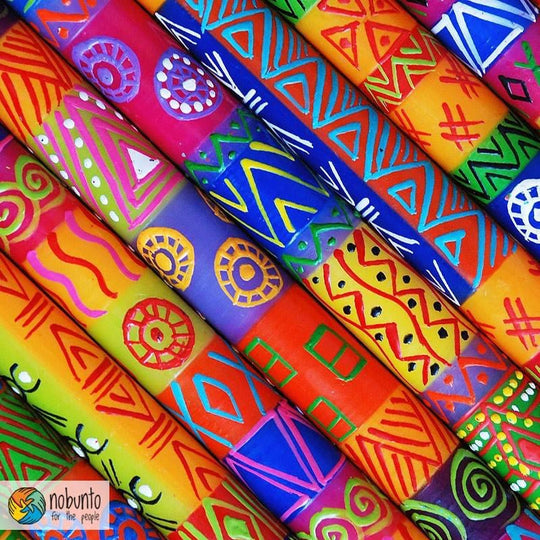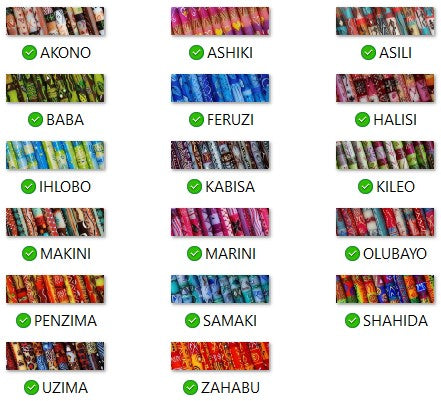 Nobunto
Nobunto Handpainted Dinner Candles (set of 3)
Certified FAIR TRADE South African Handpainted Dinner Candles
Set of 3 candles in a recycled paper gift box: Ø 2 cm / 23 cm high
Every single one of these candles is artfully handcrafted and painted in the Nobunto workshops in Napier, near the southernmost point of Africa. Each candle is a small work of art, unique, because no two are alike. The patterns of each candle are individual, but are based on the color scheme. Deviations in the designs, colors and shapes are therefore to be enjoyed with pleasure.
Based in the small village Napier, about 180 km east of Cape Town, NOBUNTO has provided employment to mostly women of this disadvantaged community. NOBUNTO harnesses the creativity of African artisans, nurtures their talents and develops the market for their inspirational designs. The rights of the artisans and their financial empowerment are core to their business.

The aim, in a region with a high unemployment rate, is to alleviate poverty and to develop a company that is not only economically successful but one that is socially responsible, ethical, and sustainable.

FAIR TRADE is not a marketing badge for NOBUNTO, FAIR TRADE is, with all its challenges and room for improvement a way of life into a greater future.