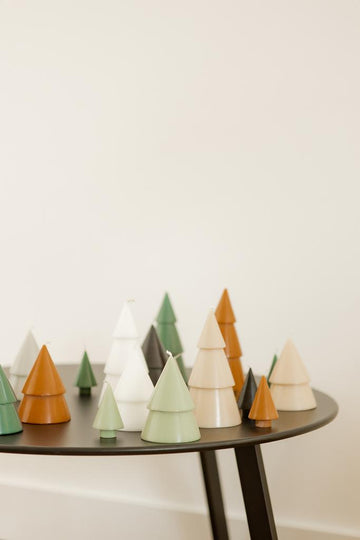 Original Home
Original Home Xmas Candle L
The Xmas Tree Candle is 100% natural, eco-friendly and hand crafted from certified palm kernel oil. The candles are unscented and poured by hand. Every purchase supports a special fair trade project in Java, Indonesia.
This is the perfect small Christmas gift for anyone you wan to share some light and warmth with.
The candle is available in many different colours.
The burning time for the Xmas tree candle M is 15-17 hours and for the L 29-32 hours. Please follow the care instructions for optimal usage.
NATURAL CANDLES
that empower rural women from Java, Indonesia
Share your light with the world with these WFTO fair trade candles made from certified palm kernel wax. The candles come in a wide colour range. Our candles are hand-poured by women in a small factory in a rural village in East-Java, Indonesia. The factory empowers women by training them in the candle-making process, offering them a safe environment and fair wages. All candles are unscented, vegan and have a cotton wick.
100% natural
handcrafted
clean burn
vegan
fair trade certified
Size: 10 x 8 x 8 CM
Made in Indonesië
Packaging: EAN Sticker on Gift box
About the brand ORIGINAL HOME
"We love to living green and design our products with respect to the planet and its people. We have made it our goal to create interior objects that are original & sustainable and contribute to a social cause at the same time."