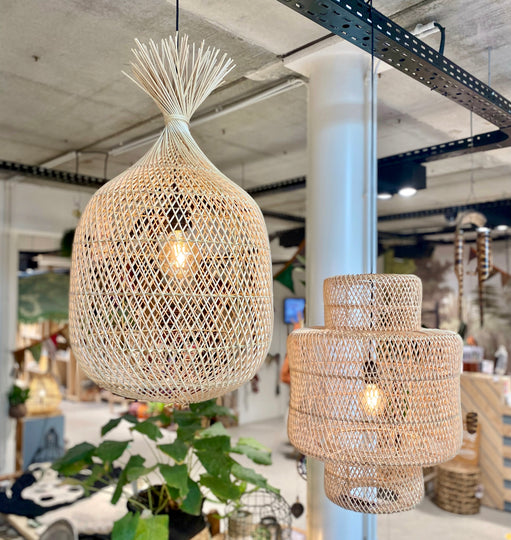 Earthware
Rattan Pendant Light Maya
Stylish handmade lamp made of rattan.

This Maya rattan lamp has a special appearance. The lamp has a beautiful hand-woven pattern and some small protruding pieces of rattan at the top for a playful effect. A beautiful lamp that radiates luxury and tranquility. This lamp is suitable for an E27 fitting and is supplied without a pendant cord and light source. You can order the pendulum cords separately from us. This way you can hang the lamp right away!

Size: 70 x 46 x 46 cm
Color: Natural
Material: Rattan
Note: No light or cord included, only rattan lamp.
Earthware originated from the love for authentic and natural products.
Local artisans make the most beautiful items, h
andmade and according to traditional techniques.
 All p
roducts have been obtained in an honest way and tell the unique story of the artisan.
The Earthware style is characterized by neutral colors, a natural look and that special authentic touch.
This ensures that lovers of the brand have unique products in their hands: no item is the same.