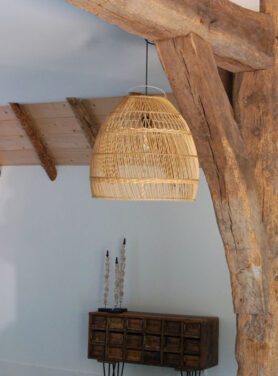 Earthware
Rattan Pendant Light Yara S
Stylish handmade lamp made of rattan.
Rattan lamp Yara is a popular lamp that you often see in home magazines or social media. We understand that completely, because this lamp is also our favorite. The shape and unique structure make this lamp a true beauty.


Size: 48 x 48 x 48 cm
Color: Natural
Material: Rattan
Note: No light or cord included, only rattan lamp.
EARTHWARE ORIGINATED FROM THE LOVE FOR AUTHENTIC AND NATURAL PRODUCTS. LOCAL ARTISANS MAKE THE MOST BEAUTIFUL ITEMS, HANDMADE AND ACCORDING TO TRADITIONAL TECHNIQUES. ALL PRODUCTS HAVE BEEN OBTAINED IN AN HONEST WAY AND TELL THE UNIQUE STORY OF THE ARTISAN.
THE EARTHWARE STYLE IS CHARACTERIZED BY NEUTRAL COLORS, A NATURAL LOOK AND THAT SPECIAL AUTHENTIC TOUCH. THIS ENSURES THAT LOVERS OF THE BRAND HAVE UNIQUE PRODUCTS IN THEIR HANDS: NO ITEM IS THE SAME.