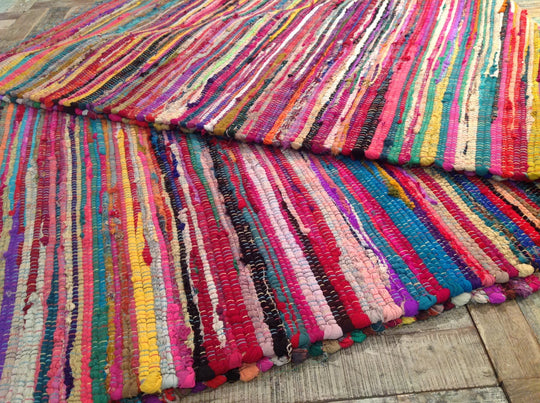 Second Nature
SHANTI Multi Rag Rug Small
Our Shanti Range is a little more shabby chic than others that we offer but they are great value. If you are a hippy or a hippy chick you will probably love them. Cover a huge space for very little money or fill that little gap in the porch. Conceal a tired looking floor under bright colours or spread them out in your tent. These rugs are great for bringing a splash of colour to your home or camping adventure.

Ethically sourced, this item has been hand woven by a GoodWeave certified producer. Look out for the unique number on your new rug and know that your purchase has helped to support global action against child and forced labour.

The rugs are hand loomed in India with multi coloured fabric so every one is different - and the fact that they are made with recycled materials is a great touch! Remember that the random fabric content means that they should be treated as non colour fast especially if they have become damp - so please take care to avoid colour transfer onto other surfaces.
Please note due to the nature of this product it comes in assorted designs and various colours, so we cannot specify which colour/design you will receive.


Dimensions: 60 x 90cm


WHY CHOOSE THE GOODWEAVE LABEL?

The GoodWeave label is your best assurance that no child labor, forced labor or bonded labor was used in the making of a certified product.

Second Nature Online is a Licenced Brand with GoodWeave.