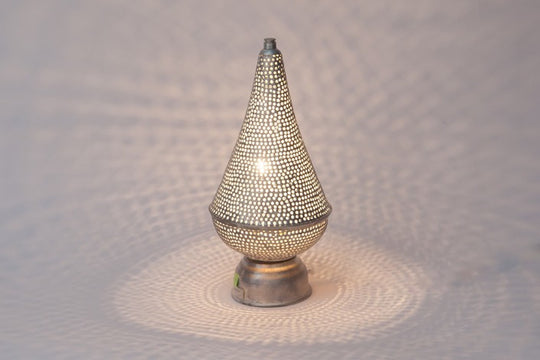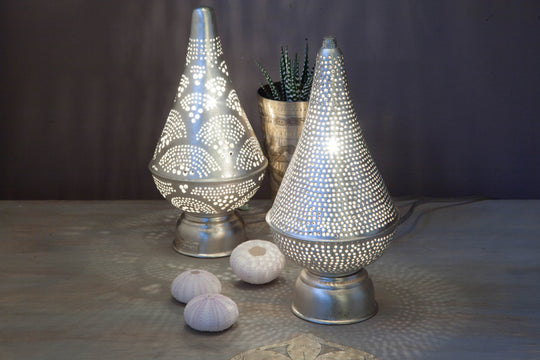 Zenza
Silver Mini Filisky Table Lamp
On a table, in a corner on the floor, beside the bed, there is always a place for these beautiful table lamps with their amazing shadow patterns.
These lights come with a power plug so you can easily move these lights around!


It was the incredible craftsmanship that astonished us when we started working with the artisans in Egypt. Handwork is disappearing in the fast world of today and we wanted to keep using the skills of the copper smiths. 
The Zenza factory in Cairo provides a safe work space where the owners can maintain their high quality standards. Through micro-finance projects they also have helped several craftsmen to set up their own work shop, so they could grow along with Zenza. Working in a sustainable and ethical way with the focus on authenticity is what truly makes a difference in the end.
COLOUR Silver
MATERIAL Brass/silver plated
DIMENSIONS Ø 13 cm x 25 cm
SHAPE Tablelamp
PATTERN Filisky
POWER SUPPLY 220v
POWER IN WATT 25W
SIZE Mini
LAMP HOLDER E14
WIRE 150 cm clear wire with power plug
DIMMABLE ✓ | Depending on the used bulb
QUANTITY OF BULBS 1 (lamp not included)