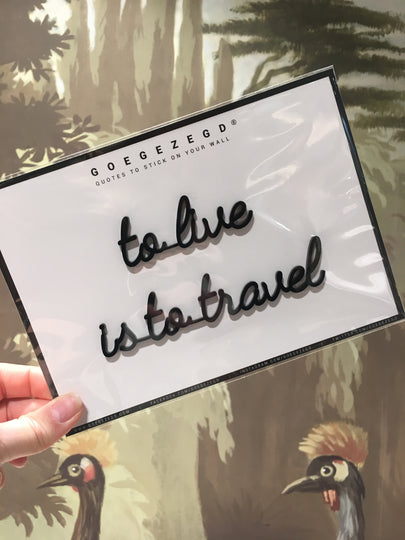 Goegezegd
sticker quote - to live is to travel
"Say it with a quote & stick it on your wall" with the self-adhesive quotes by GOEGEZEGD ®
unique design by ESCAPE
This new Belgian kid on the block elevates words, feelings and thoughts to a higher level with their 'sticky' quotes, that can be applied on virtually any sleek surface. Perfect for any occasion.
The self-adhesive quotes are an original and functional gift idea for any occasion or is just fun to buy to personalize your own space at home.
Material
Goegezegd quotes are made from high quality UV-resistant acrylate. This guarantees that their color will stay stable and won't fade over time. During production we apply a self-adhesive backing. This sticky layer has just the right amount of tackiness in order to hang the quote just like a sticker on any flat and sleek surface. Our quotes are easily removed from painted walls without causing damage and can be repositioned a couple of times. Just keep in mind that rough, highly textured, porous and dusty walls are the enemy.

Dimensions
One size fits all, easy peasy. 
Max. 15 characters per line & max. 2 text lines.
Font height = 100pt. (+- 30mm total height)
Max. length = 190mm
Thickness = 3mm

Installation Instructions
Installing the quote is very easy! Just peel the quote carefully from the card, position the quote onto the chosen surface, press briefly for a good hold and you're done!
Do make sure that your chosen surface is sleek, dust-free & oil-free before applying the quote!
When removing the quote, slowly remove the quote bit by bit and don't apply too much pressure when peeling the quote off from the surface to avoid breaking it.