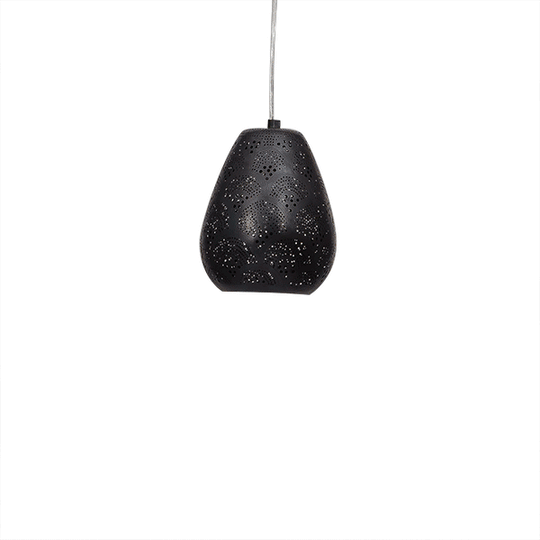 Zenza
Tahrir Filisky Mini Hanging Lamp
Magic happens when you turn on this small black Zenza light. Beatifully combined with other Zenza pendant lamps... Enjoy the stunning atmosphere with amazing shadow patterns on your ceiling and walls!
The patterns you see in the Zenza Lights are punctured by hand, without the use of any stencils. Therefor each lamp is unique.
It was the incredible craftsmanship that astonished us when we started working with the artisans in Egypt. Handwork is disappearing in the fast world of today and we wanted to keep using the skills of the copper smiths. 
The Zenza factory in Cairo provides a safe work space where the owners can maintain their high quality standards. Through micro-finance projects they also have helped several craftsmen to set up their own work shop, so they could grow along with Zenza. Working in a sustainable and ethical way with the focus on authenticity is what truly makes a difference in the end.


COLOUR Black
MATERIAL Brass/Black coated
DIMENSIONS 17 Ø x 21 cm
BOX DIMENSIONS 20x20x25
PATTERN Filisky (simple holes, no pattern as in pictures!)
SHAPE Tahrir
POWER SUPPLY 220v
POWER IN WATT 25W
SIZE Mini
LAMP HOLDER E14
WIRE 120 cm clear wire and matching cable
CEILING CAP ✓
DIMMABLE ✓ | Depending on the used bulb
QUANTITY OF BULBS 1
WEIGHT (KG) 0.75
Slight variations may occur in pattern and shape due to handcrafting.
Due to the materials used on this item, please do not use anything abrasive to clean it. Wipe with a clean soft cloth and some Handy Andy if needed.