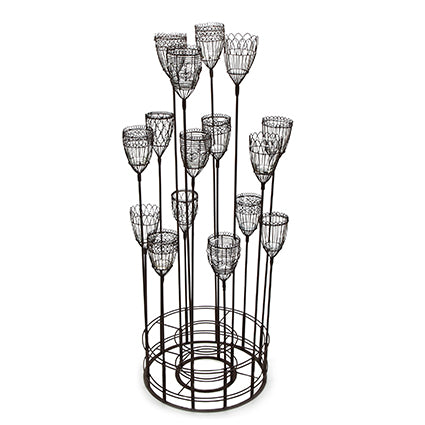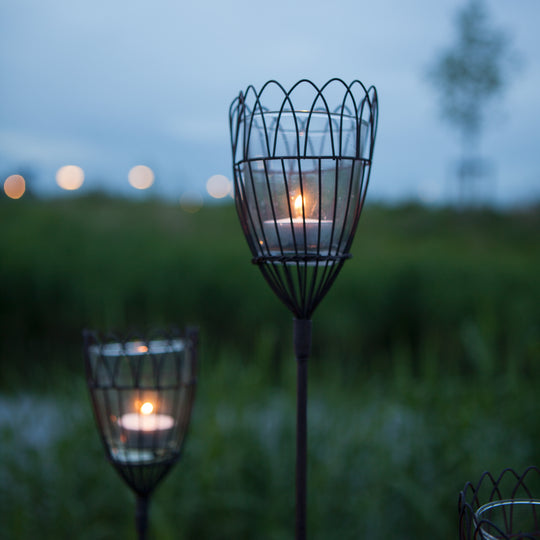 Van Verre
Set of 4 Garden Tea Lights
Metal garden tealights with a glass to fit a candle. The pins are a great addition to every garden and can be placed in your garden or in the matching stand. Perfect for those long summer evenings or for those cold and dark winter nights.
Set of 4: 1 per size (random mix of designs)
Traditional metal workshops have existed since the early days of Indian civilization. Skillful artisans turn metal wires into unique pieces of art and cast crude aluminum into bowls and trays. They use hand-beating and delicate engraving techniques to decorate their artwork. This age-old craftsmanship is transmitted from father to son, and their rhythmic hands never tremble while finely detailing every single item.

The mystique of India travels to your garden with the ornamental garden tea-lights. Place them on a stand or in a flower pot using different heights to create a playful effect, or randomly between the flowers and plants that colour your garden. Use the small lights as a centerpiece on your Easter table! Put the display with candles outside your shop, the lights will draw the customers in!

Use: To care for these products, clean by hand with lukewarm water and mild soap. The garden thealights are wind and weather proof and can stay outside during the cold and wet days of winter.
Size : 50 / 79 / 89 / 99 cm 
Color : rust-coloured steel
Origin : handmade in India
Material : iron